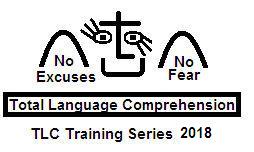 TLC is proud to offer
Voice Intensive
Training
January thru October, 2018
Trainings will be held the second and fourth Tuesdays 6:00 – 8:30 PM
4.0 CEUs
(July trainings will be the second and fifth Tuesday)
All trainings will be held at Hive44 in Fenton – 1710 Fenpark Drive, 63026
Total Language Comprehension Services presents a 40 hour intensive training to improve your voice interpreting skills. Various ASL models and signed work will be analyzed, discussed and interpreted. Trainees are expected to attend all trainings as each session will work in conjunction with the prior trainings. Make up work will be available for any missed training. No more than four make ups will be allowed.This training is offered to those who truly wish to improve their skills. Hard work and intensive analysis of trainees work will be expected. While this training will be very difficult, it will be given in an encouraging and supportive environment.
$400.00 may be paid in full or payments so long as all monies due are paid in full prior
to last session. No refunds will be offered.
Torri Ryder at torri@tlcinterpreting.com or
636.485.4863 for more information
Objectives:
Voice interpret for various signed ASL work.
Analyze signed passages to obtain the meaning and intent of the message.
Analyze and correct individual voice interpreted work.
Obtain self confidence and skills in voicing required to pass an exam.